How did you come to design care home interiors?
Interiors have always been a part of my life. My grandfather used to sell fabrics and manufacture curtains, so it was something I grew up with.
I'm an auditor and chartered accountant by trade, but I set up a curtain-making business nearly twenty years ago – initially as a business for my mother to manage. She had been diagnosed with cancer and needed a project that would work around her treatment programme. The business was successful and quickly evolved to the point where I was involved full time.
We started furnishing show homes for property developers such as Berkeley Homes, and Bovis. This evolved to working on hundreds of rental fit-outs and other large projects such as furnishing the Olympic Village.
We also started to work with care home operators to fit-out their care home interiors at this time.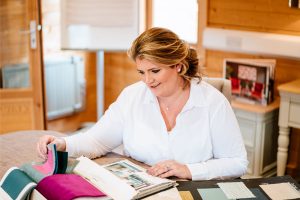 Why specialise in care home interiors?
I quickly learned that fitting out care home interiors made a big difference to people's lives. It was different from our previous work. The designs were touching residents – sometimes to the point of tears.
With a background in residential interiors, I was designing care homes as if they were exactly that – someone's home. It wasn't something that had really been done before.
Compared to other projects I'd worked on; this was so much more important. In many cases, we were designing someone's final home.
I decided that this was something I wanted the business to concentrate on all the time.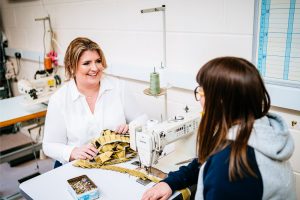 Why is dementia design so important to you?
I have a personal interest in dementia design. My grandmother had dementia and when we could no longer care for her, we went to visit a care home.
I remember walking around the home and being told that there was only one room left – it was a green room. My Nan didn't like green and the care home staff told me it wouldn't matter because she had dementia.
This really upset me, and it made me want to change attitudes. Just because someone is poorly with dementia, it doesn't mean they shouldn't live in a beautiful interior – like anyone else.
What has been your most satisfying moment at The Care Home Interiors Company?
My best moments have all involved care home residents. When we visit care homes, we get to know the residents quite well – especially on refurbishment projects where residents are already living in the home.
It was on one of these refurbishment projects recently, in Cambridge, when one moment really stood out for me.
One of the female residents, who I'd seen many times before, came up to the curtains we were hanging and exclaimed how pretty they were.
This lady had dementia and I had never seen her engage with anyone or anything before. It really moved me – that she should notice the pattern of the curtains.
A small thing, but something that makes our work very worthwhile.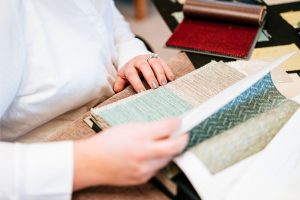 Why should someone choose to work with The Care Home Interiors Company?
As well as being passionate about what we do, we're a really strong team. Many of us have worked together for over 10 years.
This is great for our clients and I'm sure it's the reason why we have a 100% customer retention rate. Whether it's our design team, ordering team, manufacturing team or installation team – our clients get continuity and a service they can trust.
Care home operators know who they're going to be working with and they know that every team member has years of experience behind them. They're always in safe hands.
We're also fully flexible and our clients love that. We might provide a full fit-out service on one care home and work with your interior designers on another. We can work on refurbishment projects or large-scale new builds. We're set up to meet all needs – and always on time and to budget.
The Care Home Interiors Company has extensive experience in care home interior design and care home interior makeovers. If you would like to discuss care home interior design for a new build, extension or regeneration project, please contact us.