Life is easier in a well thought out space
You might be looking for research and guidance about how to select artwork specifically for the benefit of people living with dementia. The truth is there isn't much out there for you to take from, which is why I'm sharing what we've learnt in our many years of selecting artwork for dementia residential care homes.
When we think of artwork we might think of an art gallery where art can be a fleeting fancy of something abstract open to our own interpretation, or it can be how we make our home a home, with illustrations of our own lives, or images we simply have a connection with. We don't think there are any rules, we either like it or we don't.
When choosing artwork for an environment where people are living with dementia our experience tells us there are rules. You mustn't leave anything open to interpretation.
Remember it is still an adult space, adults live there with their many years of built-up experiences and memories to call on. The purpose of design and making artwork selections is to enhance an individual's quality of life by creating a living environment that is reassuring and enabling.
Many dementia specific design treatments are seen as an intervention, whether to aid wayfinding or for reminiscing exercises, however, it can become overt in its purpose to the point where that itself creates anxiety, agitation and even depression.
For example, life-like images on walls could be incredibly distressing to someone who is conscious they get confused. We know it's only a representation of reality but someone with dementia may have no idea whether it is real or not.
I once saw a lady trying to catch butterflies that were actually transfer wall stickers. That's incredibly confusing and heightens anxiousness as she was trying to catch them to release outside!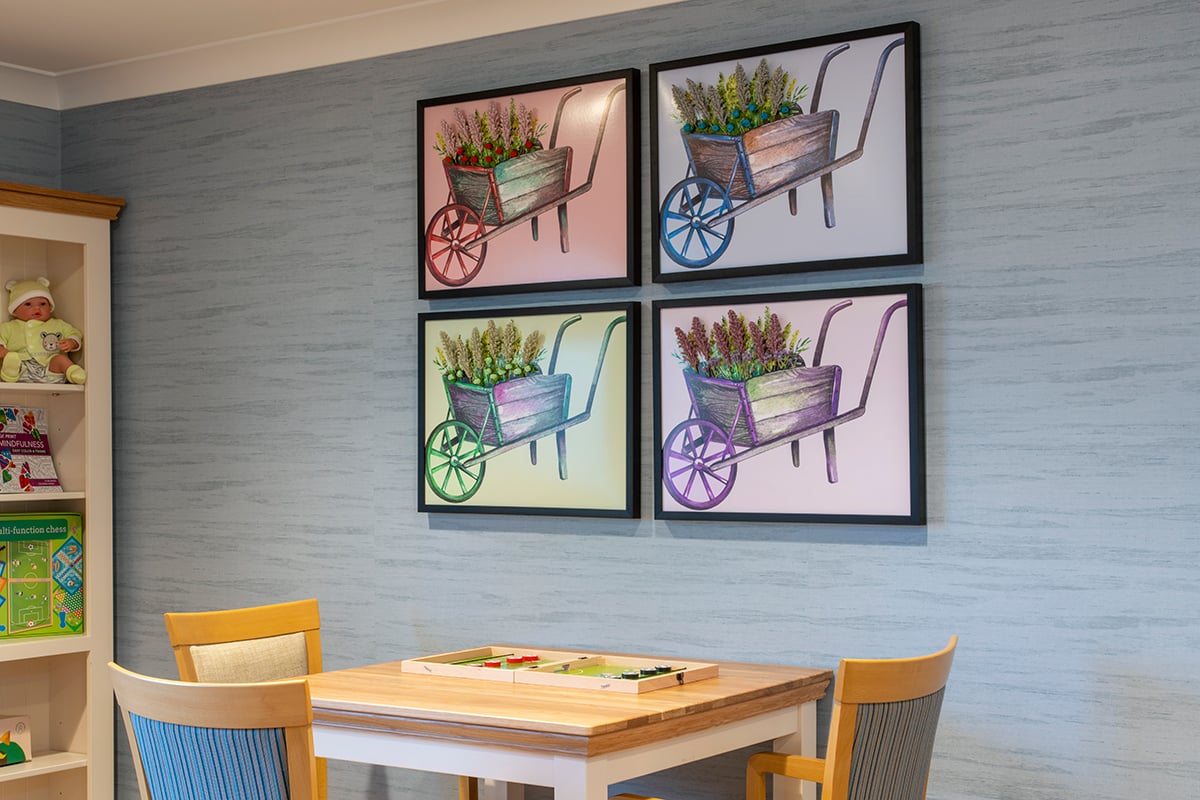 Artwork doesn't have to be so overt. It's important to remember that artwork should be simple. It should represent exactly what it is to be easily identifiable helping to mitigate the risk of any confusion.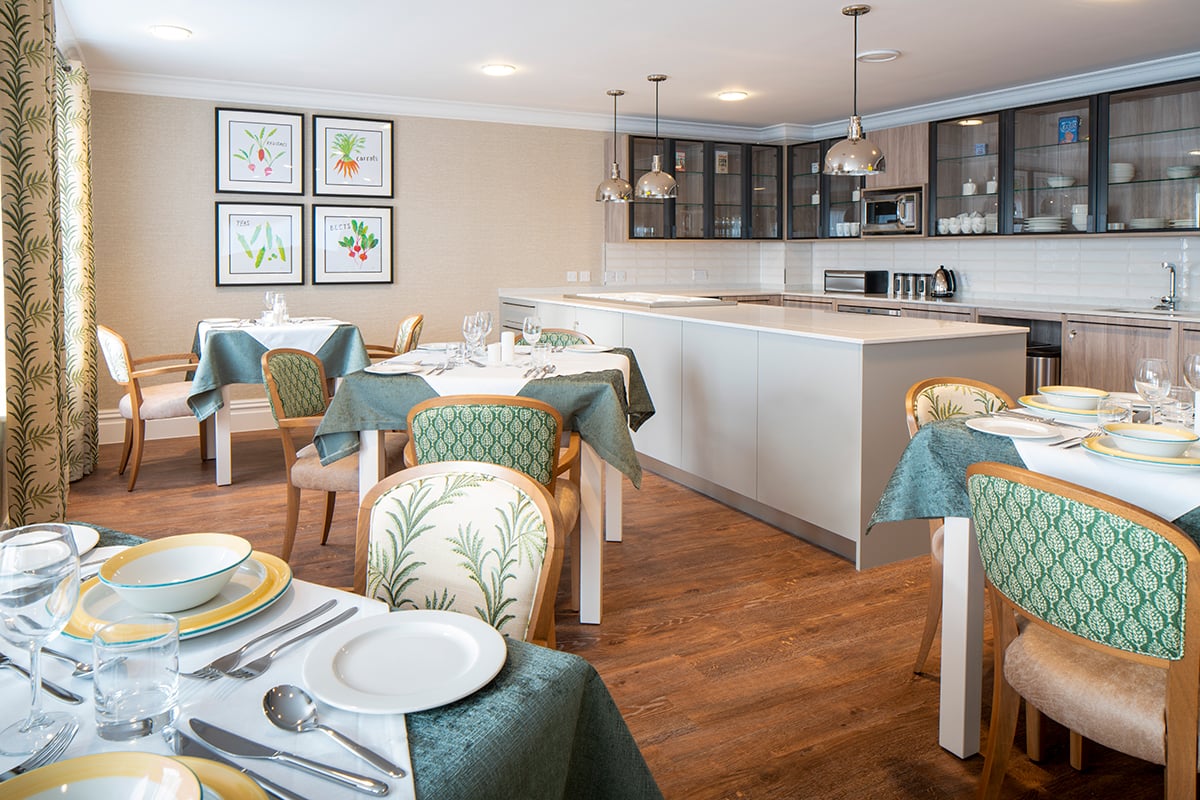 For example, we would use images of food and drink in a dining or kitchen area. In a lounge or library area, more traditional pictures would be sourced of wildlife or nature.
Corridors can be a problem area, especially for wayfinding. We find artwork can alleviate navigation problems by selecting memorable images. Landscapes can work well; they can initiate memories of past holidays, day trips or hobbies.
We once used an Italian street theme in a corridor only to have a conversation with a lady who lived at the home remarking on how it reminded her of family holidays abroad. This is precisely what we should all be striving to achieve.
We're always looking to create a warm comfortable feeling where memories are pleasant rather than scary or confused.
Here are some top tips to help you help those you support and care for live with ease and comfort.
Artwork has to look the same in black and white as it does in colour
Tonally correct artwork will still be enjoyed even if the colours cannot be seen, it still has distinction and can be understood and appreciated for the picture it is by someone with a visual impairment or loss of perception.
Never use mirrors
Mirrors can be confusing and create a lot of anxiety. We have seen this first-hand with a carer paying a compliment, saying: "You look really lovely today" then turning to look in the mirror together only for the response from the person living with dementia to say" Which one am I?"
Think about the bigger picture
Depicting mining references in what was once a mining town isn't always relevant to the people who live there; unless they were miners or part of that mining family in that area. However, mining as a subject, images of a mining pony, or maybe a shovel has a much broader appeal and encourages a reference to the past that everyone can relate to.
Make bedrooms personal
Encourage the placement of personal objects rather than generic artwork. There are many benefits to having a personal space a person can call their own. A place where an individual can connect provides a sense of ease and comfort, and for some can be a sanctuary.
Remember choosing artwork for a dementia environment is more about respecting how people have lived their lives and what they need now to continue to do so in comfort.
Remove the opportunity to create anxiety and concentrate on the feeling of positive emotions and feelings that can create a reassuringly warm and friendly space.