Why interior design for dementia care homes is so important
It's no secret that we're an ageing population. We're becoming healthier and living longer – largely due to advances in medicine, education and an increased standard of living.
But a greater life expectancy creates its own issues. The longer we live, the more likely we are to need care.
And as the need for care increases, the more that care facilities are growing and changing. There is no one-size-fits-all anymore. Care villages and luxury care homes are on the rise, with many specialising in dementia care.
By 2021 over one million people will be living with dementia in the UK. The focus on dementia care is therefore understandable.
What is dementia and why is it such a hot topic?
Dementia is an umbrella term for a range of progressive brain diseases. Alzheimer's disease is the cause of 60-70% of cases of dementia.
Each dementia disease is characterised a by a decline in memory, problem-solving, speech and other skills that affect everyday life. And each person experiences dementia in their own unique way.
Despite the unique experiences of each disease, there are several common causes of distress for those living with dementia. These include fear, frustration, embarrassment and an inability to communicate.
In 2015, David Cameron set the challenge of creating dementia-friendly communities and improving public awareness of dementia by 2020.
This is certainly happening. From the BBC launching a dementia-dedicated music memory website, to the National Trust making its 500 sites dementia-friendly.
With the number of dementia sufferers on the rise, and the knowledge that even the smallest changes can make a big difference, many organisations are doing their bit to help.
Why does interior design for dementia care homes matter?
There are many proven design techniques that can alleviate stress in dementia residents. Even the smallest design elements can enhance the lives of those living with dementia.
The layout of a traditional dementia care home may be making life unnecessarily difficult for those living there. Care home interior design is therefore of paramount importance.
But to do a good job, care home interior designers must first fully understand age-related impairment.
Kerry Southern, Managing Director of The Care Home Interiors Company explains:
"When designing a dementia care home interior, you must have a good understanding of dementia and how it affects those involved – not just those living with the disease, but how it also affects their families and carers."
Understanding the difficulties caused by dementia and tuning in to the struggles of a dementia resident will enable you to create the best environment possible.
Kerry goes on to explain:
"When I see a dementia resident becoming frustrated, I try to live the experience in their shoes. I see it as my job to alleviate their stress. If I notice residents continuously walking up and down a corridor, I'll build an activity station in that corridor to give them a point of focus and something engaging to do."
So, what other advice exists for dementia interior design and how does it make a difference?
Here are Kerry's top 5 tips:
Create smaller spaces
Dementia residents are happier when in the company of smaller numbers of people.
Those suffering from memory loss can feel intimidated when entering a room full of people.
It is therefore important to divide larger spaces into discreet zones. Smaller and quieter day spaces provide ideal locations to relax without being overwhelmed by too many strangers.
Soft furnishings, carpets and curtains can help to absorb noise – something that dementia residents can find overwhelming.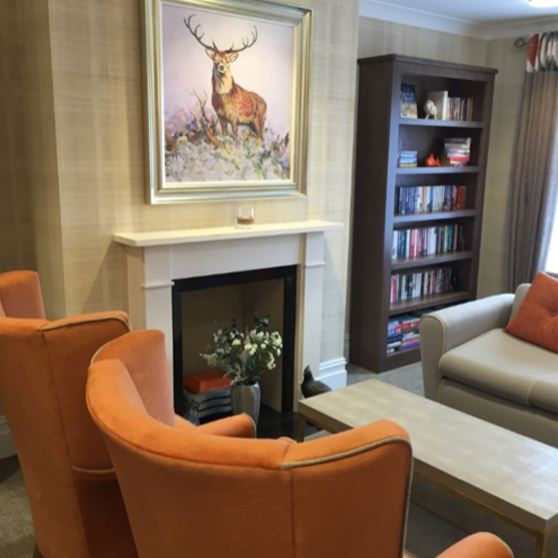 This small, homely lounge at Chiltern Grange Care Home in Stokenchurch, was created specifically for dementia residents to break away from the crowd.
Give every room a clear purpose
Too often, care home interiors appear clinical or hotel-like. But this only creates confusion. Those living with dementia need to feel reassured by knowing which room they are in at any given time.
Bathrooms, kitchens, lounges and bedrooms should be furnished with stereotypical features for those rooms. Recognisable fittings that are relevant, such as traditional fireplaces, coffee tables and ornaments in a living room, help to make the room instantly identifiable.
In a traditional care home, a dining room may also be used as a games room. But this can make dementia residents feel rushed when eating, thus leading to embarrassment and distress. It is therefore not advisable to design rooms for multiple purposes.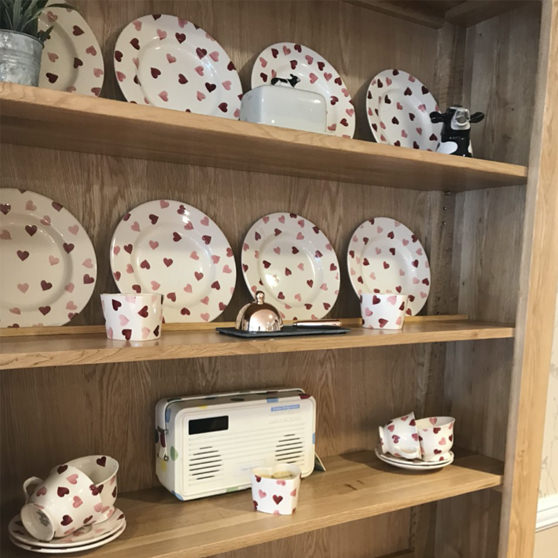 A Welsh dresser adorned with ceramic plates and cups, at Farnham care home, immediately tells dementia residents that they are in the dining room.
It pays to jog memories
Reminders of the past can be comforting for those living with dementia. Treasured personal items, photographs and everyday objects all help to trigger memories.
Designers can include memory boxes, or navigational boxes, in a location that will help a resident navigate their way to their own room.
Props and photographs can stir thoughts of happy moments in life gives residents something to talk about. Shelving encourages families and carers to dress a bedroom with items that jog memories for those living with dementia.
Sometimes only one key item can be enough to help a resident recognise their own room.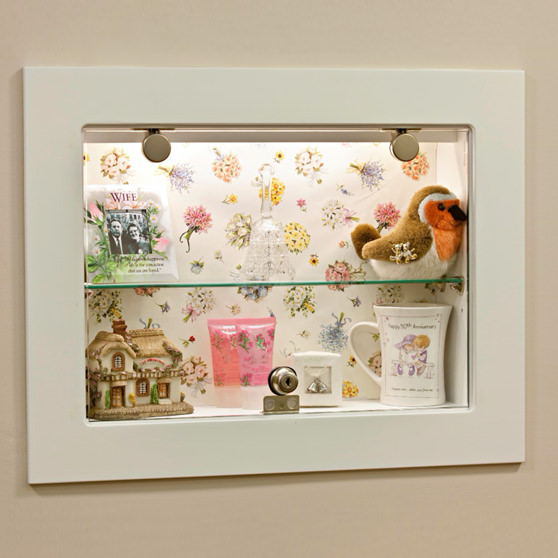 This memory box was built into the wall at Astbury Mere Care Home in Congleton, specifically to jog memories.
Use contrasting hues
Whilst colours such as creams, beiges, whites and greys are popular in modern interior design, they are particularly unhelpful to those living with dementia.
Choosing a contrasting colour between the seating area of a chair against the arm of the chair helps residents know where to sit. Piping can help to highlight the different parts of a chair by providing a clear outline. This creates less opportunity for a resident to misjudge where they are sitting. Contrasting colours for toilet seats also helps to avoid confusion.
Contrasting hues are important in all aspect of interior design for care homes. From curtains to seating, the importance should not be underestimated. Every use of bold and contrasting colours makes life easier for the dementia resident.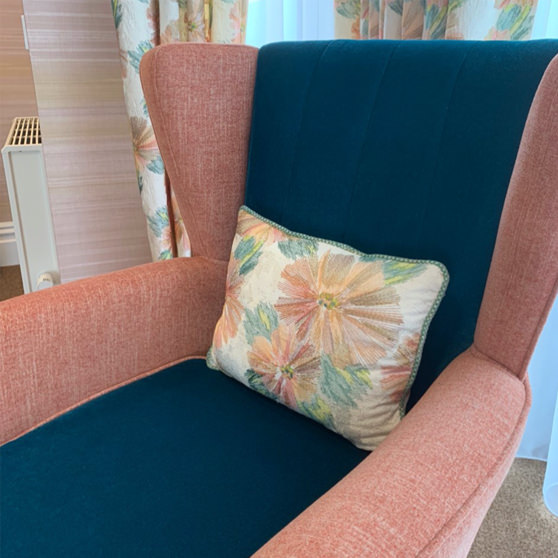 This high back chair in Falkland Grange Care Home in Newbury has deliberately contrasting colours for the seat and the outer area, helping visually impaired residents see where to sit.
Make it homely
The importance of homeliness in care home interior design has often been overlooked. But living with dementia doesn't mean that comfort and style are no longer important.
Comfortable surroundings help dementia residents to relax. Whether sitting in chairs for long periods to sitting up in bed, a dementia care home should feel comfortable and that they are home-from-home.
Allowing space for residents to include their own personal furniture is also advised. Those with dementia feel more at home when they are surrounded by familiar objects. A care home interior should always encourage residents to personalise the furnishings in their rooms.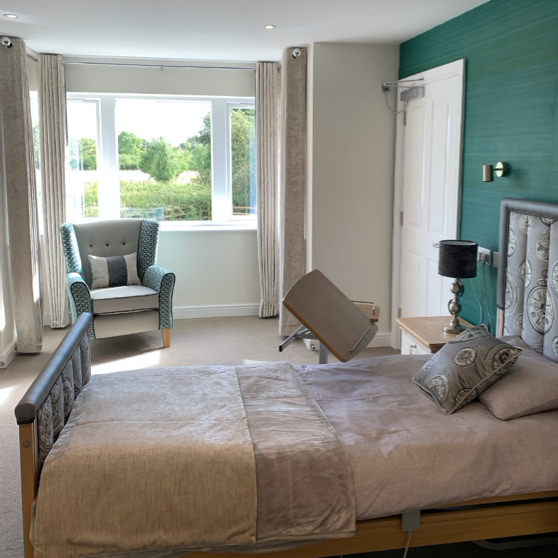 This bedroom at Mockley Manor Care Home in Warwickshire features luxury furnishings including cushions, throws, lighting and a beautifully upholstered profile bed.
Carefully considered interior design for dementia care homes genuinely enhances the lives of the residents who live there. Even the smallest changes can make a profound difference.
Involving architects, care home managers, care home staff, and even the families of those living with dementia will ensure a care home interior design that will enhance lives.
The Care Home Interiors Company has extensive experience in interior design for dementia are homes. If you would like to discuss care home interior design for a new build, extension or regeneration project, please contact us.